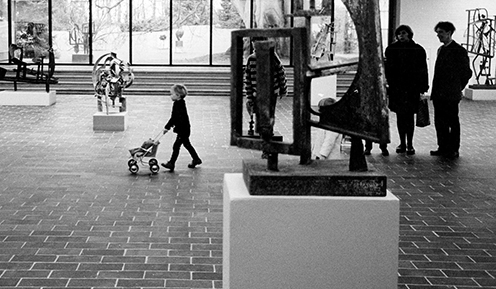 Curating the Contemporary:
An exhibition history of the museum of modern art as a new Bildung institution
Re-reading art history with a focus on exhibitions bring new understandings of the configuration of contemporary art and the changing role of its central institutions. This research can raise many questions – and provide many answers – to undiscovered aspects of Danish and international art history. Our aim is to investigate, from the postwar era until today, the dynamic interplay between the museum and the curated thematic exhibition, the rethinking of the museum in relation to the contemporary (art), and the reimagining of the museum as a Bildung institution.
Research activities
With a program of research activities the project will examine the changing role of the central institutions in the Danish art world, primarily the curatorial agency and international collaborations of Louisiana and the visions for a national gallery of contemporary art at Statens Museum for Kunst.
Combining research in Exhibition Histories and museology we investigate the complex character of the exhibition and its special relationship to the contemporary, in both academic and museal research environments. The project contributes to the developing field of exhibition research in the Nordic context. 
This research project is hosted at the Department of Arts and Cultural Studies and SMK – National Gallery of Denmark and is funded by the Danish Council for Independent Research (2019-2021).