Materials and Ideologies in Court Culture 1550-1650: Rudolf von Deventer's manuscripts of fireworks and artillery, dedicated to King Frederik II in the Royal Library, Copenhagen
The Royal Library owns two manuscripts, spectacularly illuminated with water colours presenting firearms for war and fireworks for festivities.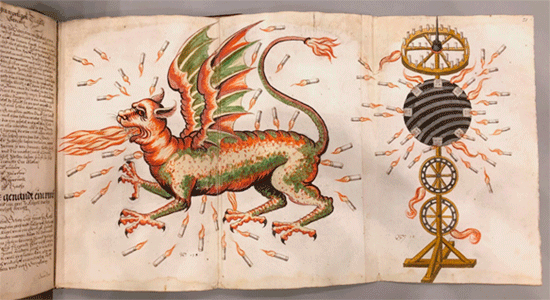 One of the almost identical manuscripts is dedicated to King Frederik II (r. 1559-1588), the other is dedicated to Christoffer Valkendorf, an official at the court of the king, and dated 1585. They are written in German by the specialist in artillery, Rudolf von Deventer, who offers them to his patrons as a manual necessary for defence against the arch enemies of the Christian regime.
A singular testimony of the war and festival culture, the manuscripts constitute the point of departure for our investigation of the concepts of materials and technologies at the time in Denmark and abroad. Our aim is a broader, interdisciplinary analysis of the ideas about culture, nature, and technology c. 1550-1650.
The project takes its point of departure in the digitalization and transscription of the manuscripts, both Kunstbuch von allerhandt Kunsten der Argkaley, Geschütz und Feuerwerk zu Wasser und zu Lande and Bericht vom Pulver und Feuerwerken are accessible online at the Royal Library. 
We furthermore aim at having the texts translated to contemporary English.
We hope to draw new attention to a field crossing over various aspects of the visual culture of the time and shed light on some of the following questions:
What kinds of technology and machinery were used and how was it integrated in the celebrations?
How were firework spectacles designed and staged?
What were the relations between the designs and production of fireworks and artillery/equipment for military purposes?
How was allegory and symbolic content integrated in the festivals and for what purposes?
What role did royal sites (tournaments squares, parks etc.) as well as the urban fabric play as frameworks for the spectacles?
Which concepts of art and nature were embedded in the spectacles and their equipment?
In which ways were the media of books and prints used to present the theory and practice of materials and techniques related to the court celebrations?
How did artist's mobility, trade and cultural exchange influence knowledge transfer related to the making of spectacles?
Charlotte Christensen, freelance art historian
Poul Grinder-Hansen, curator, National Museum.
Peter Zeeberg, Dansk Sprog- og Litteraturselskab
Hans Henrik Appel, freelance historian
Sebastian Olden-Jørgensen, Associate Professor in History, University of Copenhagen
Gunner Lind, Professor in History, University of Copenhagen.
Research in the material and its contexts will be presented at an international conference in Copenhagen, fall 2023 (call for papers in the fall of 2022).
Funding

Augustinus Foundation
Project period: 1 January 2022 - 31 December 2024