Danish Pigment Network
Danish Pigment Network (Dansk Pigment Netværk) is a resource for all, who are working with pigments and colour in artworks and cultural objects in Denmark. The network embraces all historical periods and themes, and as such it provides scholars, professionals, and artists with an opportunity to meet across institutional barriers.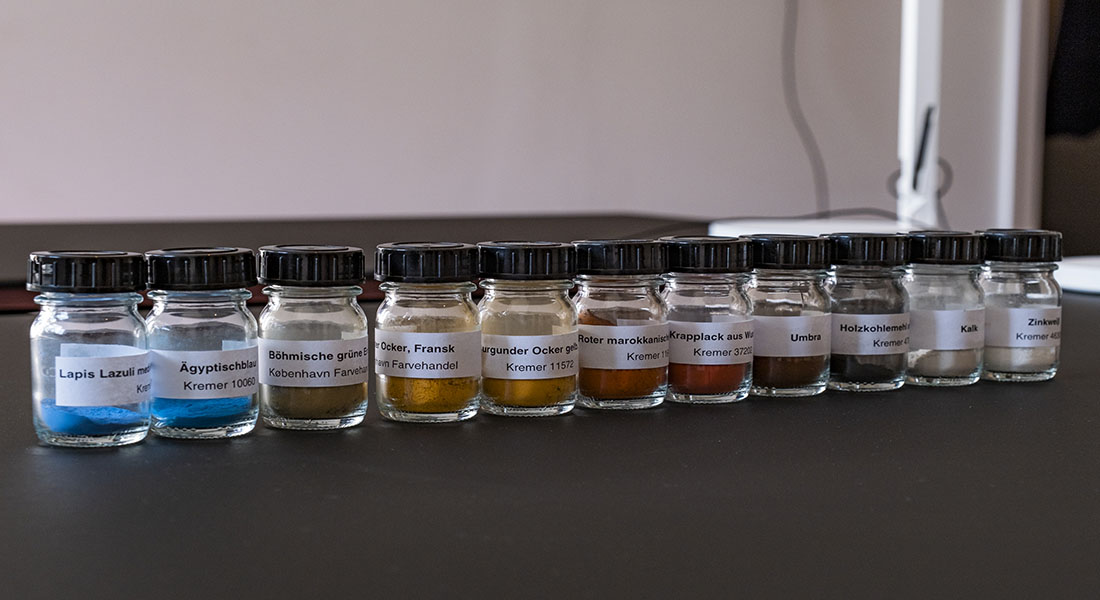 Danish Pigment Netværk is created by and for scholars, professionals, craftspeople and artists, who are interested in pigments and colour and who are willing to share their experiences. Over the past years, scholars across disciplines have applied various scientific methodologies when uncovering the usages of colour: From the painted sculptures in Antiquity; to the multi-coloured kingshalls of the Vikings; the far-reaching pigment-trading-networks of the Renaissance; to the colourful primers used for Scandinavian paintings. The results have greatly impacted on how we understand the past in the present, raising new questions as to how people before us understood, appreciated, copied and exchanged ideas about colour. The network convenes four times a year, guided by different thematic agendas, which are developed and planed as required.
The network has three overall purposes:
To discover which facilities are available for pigment or color research in Denmark. Such facilities can be anything from workshops where experiments are carried out with pigments in paint strokes and their conservation, to places where pigments can be bought, laboratories where historical pigments are analysed, and units where color understanding and terminology can be explored.
To create a space for open sparring and knowledge sharing between different disciplines and institutions, framing new ways of looking at and exploring pigments and colors in archaeological, historical and art historical contexts. The interdisciplinary framework will bring researchers (art historians, archaeologists, conservators, physicists, chemists, philologists, etc.) together with artists, craftspeople, and other actors from private companies who work with colors in different ways in historical as well as contemporary contexts.
To frame new, interdisciplinary collaborations between the members of the network, which can vary widely in theme from evaluation and development of natural scientific research methods, experiments with paint strokes, colour mixtures and reconstructions of preserved, fragmented color layers, to excursions to relevant, national laboratories, workshops and exhibitions as well as planning of seminars, conferences or talks which communicate the network's activities.
External
Cecil Krarup Andersen, Associate professor, Royal Danish Academy, Conservation
Line Bregnhøi, 

Conservator, the National Museum
Cecilie Brøns, Curator and senior researcher, Ny Carlsberg Glyptotek
Anne Haack Christensen, Painting conservator, the National Gallery
Henrik Holm, Curator, National Gallery
Samantha Johansen, Cand.mag prehistoric archaeology
Troels Myrup Kristensen, Associate professor, classical archaeology, Århus Universitet
Karin Vestergaard Kristiansen, Conservator, the National Museum.
Loa Ludvigsen, Conservator, Imaging Specialist, National Gallery
Henriette Lyngstrøm, Associate professor, prehistoric archaeology, University of Copenhagen
Johanne Bornemann Mogensen, Conservator, the National Museum
Annette Ortiz, Conservation scientist, the National Gallery
Gianluca Pastorelli, Conservation scientist, the National Gallery
Camilla Perondi, Conservation scientist
Ole Lorin Rasmussen, Sculptor, center for restauration, Slots- og Kulturstyrelsen
Olga Ravn, Writer and visual artist
Mikkel Scharff, Associate professor, Royal Danish Academy, Conservation
Nynne Raunsgaard Sethia, Colour conservator, Den Gamle By
Jens Stenger, Conservation scientist, the Ny Carlsberg Glyptotek
Michelle Taube, Conservation scientist, the National Museum
Cæcilie Vieth Vad, Co-owner of the conservation cooperative KOMPOSIT
Nina Wajnman, Conservator, paintings, the National Museum
Jan Stubbe Østergaard, Curator emeritus, Ny Carlsberg Glyptotek