I am Queen Mary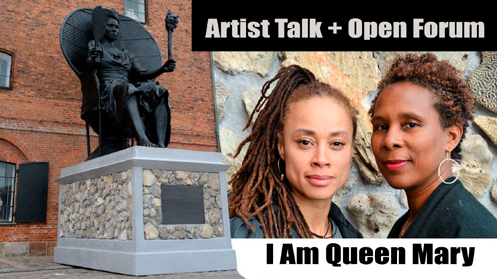 Artist talk + Open forum with La Vaughn Belle & Jeannette Ehlers.
On October 1, 1878: Queen Mary and the four queens of the Fireburn labour revolt took the Danish Colonial occupation in Virgin Islands by storm, to better the working and living conditions of the workers in the plantation system.
On March 31, 2018: La Vaughn Belle & Jeannette Ehlers erected the first monument to honour Queen Mary on the harbour front of Copenhagen and took the world by storm:
International media outlets from around the world covered the inauguration of this ground breaking public monument and tourists from around the world have flocked to Copenhagen to see it, rivalling The Little Mermaid, who sits just up the block from Queen Mary. But the future of Queen Mary is still uncertain. Come listen to the Artists talk about the project – and how the community can come together to support the future of "I AM QUEEN MARY".
About
LA VAUGHN BELLE is a multidisciplinary artist from the Virgin Islands. For years her work has responded to questions surrounding the coloniality of the Virgin Islands, both in its present relationship to the US and it's past one to Denmark. Her work borrows from elements of architecture, literature, history, archaeology and social protest to create narratives that challenge the colonial process. She is best known for her work reinterpreting the material artefacts of colonialism to create an alternative archive. She has exhibited her work in such institutions as the Museum of the African Diaspora, San Francisco, El Museo del Barrio, NY, Arts of the Americas Museum, Washington, DC., the Royal Library of Denmark and the Centro de Wilfredo Lam, Cuba.
JEANNETTE EHLERS is a video, photo and performance artist based in Copenhagen, Denmark. For years she has created artworks that delve into ethnicity and identity inspired by her own Danish and Caribbean background. Her pieces revolve around big questions and difficult issues, such as Denmark's role as a slave nation—a part of the Danish cultural heritage, which often gets overlooked in the general historiography. She has exhibited and performed in such institutions as AROS, Aarhus, Denmark, the Museum of Latin American Art, Los Angeles, the International Slavery Museum, Liverpool, the McKenna Museum of African American Art, New Orleans, Nikolaj Copenhagen Contemporary Art Center, Denmark and the Pérez Art Museum, Miami.
The Artist is organised by Sorte Firkant as part of the artistic programme "The Dancer & The Serpent (Witchcraft, Cyborgs and forms of Resistance)" supported by the Danish Foundation, Nørrebro Lokaludvalg, and DARIAH-EU through the research project "Archives that Matter" by The Uncertain Archives Research Collective: Katrine Dirckinck-Holmfeld, Daniela Agostinho, Nanna Bonde Thylstrup and Kristin Veel.
For press material, please contact: katrinedh@gmail.com | 41 69 50 55| www.facebook.com/sortefirkantkbh |www.sortefirkant.org/
More information about the I AM QUEEN MARY PROJECT