She is no gentle lamb in the cave of the werewolf: Women artists in Scandinavia, 1900-1960
International conference co-hosted by the Department of Art and Cultural Studies, University of Copenhagen and the National Gallery of Denmark, funded by the Novo Nordisk Foundation.
Keynote speaker
Professor Griselda Pollock, University of Leeds, UK.
Registration
Register for the conference here.
Conference fee: 250 DKK
Program
8:30
Welcome and coffee
9:00
Introduction: Mikkel Bogh, Statens Museum for Kunst
9:15
Keynote address: Professor Griselda Pollock, University of Leeds
10:15
Coffee break
10:45

Panel 1: Forging New Paradigms: "Fine" and Applied Art, Practice, and Activism

Moderator: Carol Mavor, Univ. of Manchester

 Joanne Conrad, Cal. State Univ. East Bay: "Ottilia Adelborg: Female Relations and Alternate Discourses of Modernity"

 Katarina Wadstein MacLeod, Södertörn Univ.: "Collaboration and Co-Habitation: Women Artists at the Turn of the Century"

 Zofia Cielatkowska, Independent Scholar: "The Representation of Lack, the Matter of Imagination. Hannah Ryggen, Aesthetics of Resistance, and Art Against Fascism"

Discussion

12:15
Lunch break
13:30

Panel 2: Scandinavian Women Artists and the International Avant-Gardes.

Moderator: Kerry Greaves, Univ. of Copenhagen

Mette Højsgaard, Univ. of Copenhagen: "Dealing with Circles: Franciska Clausen and Her Position in the Group Cercle et Carré (1929-1931)"

Ulla Angkjær Jørgensen, Norwegian Univ. of Science and Technology: "Self-Assured Nude: Anna Klindt Sørensen Paints the Female Body"

Martin Sundberg, Norrköping Art Museum: "Surrealist Beasts - Greta Knutson's Strategy of 'Performative Refusal'"

Discussion

15:00
Coffee break
15:30

Panel 3: Sonja Ferlov Mancoba in Context

Moderator: Dorthe Aagesen, Statens Museum for Kunst

Tina Mariane Krohg Madsen, Node Center for Curatorial Studies, Berlin: "Intra-Actions with Nature (and Beyond): Hilma af Klint, Else Alfelt, and Sonja Ferlov Mancoba" 

Karen Kurczynski, Univ. of Massachusetts, Amherst: "Else Alfelt, Within and Beyond Cobra"

Johanne Løgstrup, Aarhus Univ., Yvette Brackman, Artist, and Pia Rönicke, Malmö Art Academy: "No One Creates Alone"

Discussion

17:00
Closing remarks: Kerry Greaves, Univ. of Copenhagen
Call for papers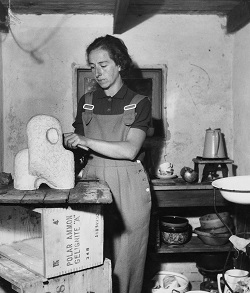 This international conference is held in conjunction with the exhibition Sonja Ferlov Mancoba (9 February – 5 May 2019) at the Statens Museum for Kunst, Copenhagen and Centre Pompidou, Paris - the largest ever showcase of the work of the pioneering Danish artist Sonja Ferlov Mancoba (1911-1984).
For Ferlov Mancoba, who was an important contributor to several avant-garde movements, including French and Danish Surrealism and Cobra, it was "only by virtue of each other can we live and breathe, and no one creates alone."
Such a humanistic ideal lay behind the Cobra approach to art, and implies a certain relationship between artists, as well as the artist and viewer, which relies on cooperation and equality irrespective of gender. This was something the Cobra figures themselves recognized at the time, or as the poet Edouard Jaguer described it in his Cobra Library monograph on Ferlov Mancoba's friend, the painter Else Alfelt, in relation to her male Cobra counterparts: "She is no gentle lamb in the cave of the werewolf." Why then, do progressive women artists such as Ferlov Mancoba and Alfelt continue to remain less visible than the male artists of the movements with which they were associated?
The conference seeks to address the persistent inequality in the dissemination, reception, and art historical scholarship treating Scandinavian women artists active during the first half of the twentieth century before the advent of the feminist movement in the 1960s.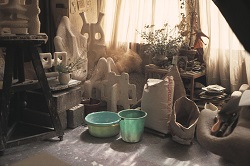 We invite papers that consider: how Scandinavian women artists formulated artistic subjectivity, identity, and autonomy within art movements; how their work advanced or challenged the criteria of the movements with which they were involved; the strategies they developed in order to navigate environments that restricted their professional access; the critical reception of their work and the conditions surrounding their later art historical treatment, and the impact of a specifically Scandinavian context on the contribution of women modern art professionals.
We especially encourage papers that present new research, methodological approaches, and subjects. Selected papers will be published in English as part of a scholarly anthology on the subject in 2020.
Proposals for this conference must include (in English)
An abstract of maximum 300 words
An academic resume with full contact information including email
Papers will be 20 minutes in length and followed by discussion. 
 
Proposals should be sent to Kerry Greaves by 25 January 2019. You will be notified by 1 February 2019 of your acceptance.