The Lures and The Tears of The Image
Patterns into A Pulsatile Imaginary (Rhythm, Resonance, and Reverie)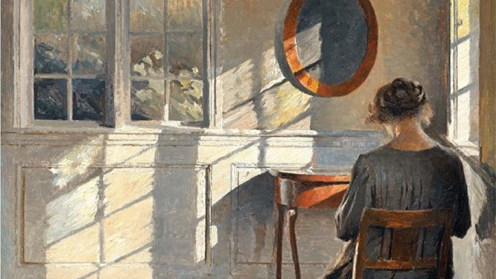 The conference grants priority not only to visual but also to poetic imagery, to all imaginative aspects of language, sound, and somaesthetics. Inspired by such works, as The Poetics of Space and The Poetics of Reverie, the conference will explore the spaces where image becomes the place for poetic and ideating intersections, of temporal ruptures. Homo imaginans is not only the logo of the conference but the premise and the guiding idea for our discussions: the belief in the inner capacity of the human imaginative creativity. Images do not only cover the visual regime but every imaginative aspect of life that grants access to "imaginary creation," and "imaginary vitality."
We will privilege in our discussions the material imagination over the representational imagination. Inspired by the materiality of Bachelard's elemental imagination and Deleuze's logic of sensation, the conference seeks to explore the energies and the forces of the image; the rhythm and the resonance that penetrate it, and by which new imaginary opportunities are opened to the image, giving the movement a vertical direction. Time no longer flows horizontally, but it hurls (leaps) up.
We encourage inquiries into possible analogies between various theorists of the imaginary, such as G. Durand, P. Fédida, J.-J. Wunenburger, G. Didi-Huberman, C. Castoriadis, or M. Maffesoli. We are especially interested to explore the pathos of the image, its forces and the rhythmical patterns of the "awakening of sensation." We welcome specific analyses of such situations, as well as any other imaginative patterns that belong to the pulsatile imaginary.
Finally, what we should debate is not WHAT an image "means," but rather HOW it captivates us and makes us part of its alterations; how the imagination distorts what we perceive, and how the imagination resonates with the image, intensifying the temporal rhythms of the image – itself becoming time. Bachelard has argued against the stable and complete image, issued by formal imagination, for it "causes us to fall from the state of dreaming imagination." We want to inquire into that shimmering image borne by the elemental, specifically the image of "poetic reverie." Here we must read the adjective "poetic" with its original etymology from Gk. Ποίησις, as a "creative" act and an opening into dim uncertainties of the image. We must search for the lures and the tearing (déchirure, zerrbild) of the image, as Didi-Huberman (P. Fédida) put it.
Keywords: Imaginary, material imagination; the elemental; water; dream; poetic reverie; resonance and reverberation of image; sonic duration; epiphanic instant; rapture; rhythm; rupture; tearing of image; zerrbild.
The conference will take place online, the deadline for request for participation is Friday the 16 April 2021 to isar@hum.ku.dk
23. April 2021
10.00
Velkommen| Welcome
Helle Munkholm Davidsen (Institutleder| Head of Institut for kunst og kulturvidenskab (IKK Copenhagen University)
10.10
Introduction
Nicoletta Isar, Copenhagen University
10.20
Keynote Lecture
Kristupas Sabolius, Institute of Philosophy of Vilnius University & research affiliate MIT (USA)
Imagination and Milieu
I. Material Imagination: Poetic Reverie
Poetic Reverie - Reverberation
Chair: Lise Henriette Hindsberg
11.00
Mikkel Ibsen Sørensen
Translating the imaginative – sequences from Gaston Bachelard's Poetique de l'éspace
11.30
Coffee Break
11.45
Dylan Godwin, Coquitlam College Vancouver British Columbia
"Confusion at Sea"
12.15
Lunch Break
14.00
Cristina Moraru, "George Enescu" National University of the Arts (UNAGE) Iaşi
The Imaginary Reverberation From Gaston Bachelard's Transsubjectivity to Jacques Rancière's 'Confused' Knowledge
14.30
Marta Chiara Olimpia Nicosia, Project iHERITAGE, Palermo
Foemina imaginans. Visual Reveries as Creative Acts
15.00
Anders Bille Petersen & Nils Bloch-Sørensen
Kunstangst
15.30
Louis Kaplan, University of Toronto
Star of Darwin: Melech Ravitch's Photo-Poetic Reverie and the Imagining of a Jewish Refuge in Australia
16.00
Coffee Break
Sounding Vividness Immersion
Chair: Nicoletta Isar
16.30
Lise Henriette Hindsberg, Copenhagen University
The Dream of Vividness: The Iconicity of Sound in the "Gloria in excelsis Deo"
17.00
Calypso Gillet, University Sorbonne Nouvelle & Copenhagen University
Immersion in Gérard de Nerval's visions: where reality and fiction collide
17.30
Keynote Lecture
Bissera Pentcheva, Stanford University
Astral Flowers: Choros, Coro, Corona in Medieval Art
18.00
Questions Discussions Conclusion
24. April 2021
II. Patterns Into the Pulsatile Imaginary
Emergences: Rhythm, Puls, and the Crucible Dance
Chair: Nicoletta Isar
10.00
Keynote Lecture
Lilian Munk Rösing, Copenhagen University
Incarnation and "Déchirure"; Annunciation and Crucifixion
10.30
Keynote Lecture
Marcia Cavalcante, Söndetörn University Stockholm
"Emergences and Ressurgences" – Notes on the Unformed in conversation with Henri Michaux
11.00
Marie-Luce Liberge, University Paris VIII, Saint Denis
Imaginary of the Window: A Sensitive Travel through Images
11.30
Coffee Break
11.45
Nicoletta Isar, Copenhagen University
The Imaginary of the Crucible
Rite of Spring – Rite of Dis-imagination
12.15
Lunch Break
Imaging Mattering Sensing
Chair: Hanna Louise Grønneberg & Thea Møller Jensen
14.00
Ulrike Kuch, Faculty of Architecture and Urbanism, at Bauhaus-Universität Weimar, Germany
Moving Lights. Architecture as Image
14.30
Henrik Oxvig, IBBL/Royal Danish Academy
Architecture as space created with our imagination through images and narrative
15.00
Anders Michelsen, Copenhagen University
The Mass of the Visual: Developments in the early Soviet Union as post-imaginary experience?
15.30
Coffee Break
15.45
Alessandro Ferraro, University of Genoa – Italy
Dialectics between invisibility, imagination and scientific knowledge in defining abstract pictures: The New Abstract Vision
16.15
Mathias Srisakul Larsen, Copenhagen University
Viola's "He Weeps For You". On rhythmic sensations in video
16.45
Gustav Hoder, Copenhagen University
Miniaturisation in prehistoric art
17.15
Questions Discussions Final Conclusions