13 October 2022
Writing and thinking in community – about art and communality
The Royal Danish Academy of Fine Arts in collaboration with Art as Forum and New Carlsberg Foundation's research Centre at University of Copenhagen present contribution #7 and #8 to the series Kunsten som forum på tryk.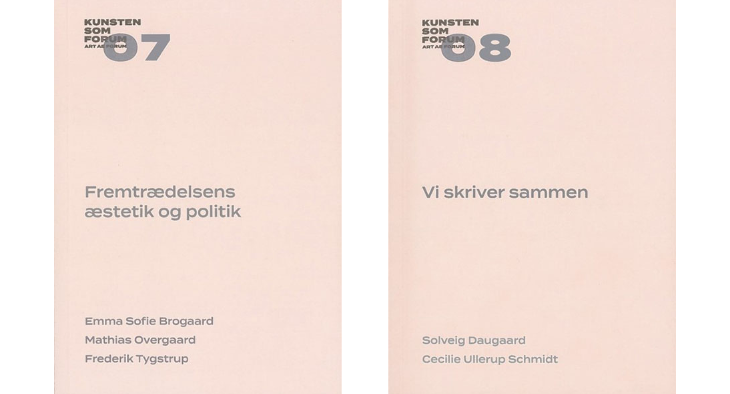 The publication series invites Danish-speaking readers into ongoing conversations about art and its communities. It has done so by presenting selected contributions from the Centre's lecture series, where both local and international researchers and artists contribute with new knowledge.
With the two new publications the series features, for the first time, the work of some of the researchers affiliated with the center. Both publications are written in collective processes and are thus exemplifications, as well as discussions, of ideas about communality.
In #7, Fremtrædelsens æstetik og politik. Kunst og fællesskaber hos Hannah Arendt og Maurice Merleau-Ponty (The aesthetics and politics of appearance. Art and community in Hannah Arendt and Maurice Merleau-Ponty) Emma Sofie Brogaard, Mathias Overgaard and Frederik Tygstrup present a rereading of the aesthetic and political theories of Hannah Arendt and Maurice Merleau-Ponty, finding new kinships between them. Both establish a correspondence between forms of sensorial appearance and forms of community – making aesthetic appearance fundamental for our political sense of reality.
In #8 Vi skriver sammen. Adressering, adgang og afhængighed i litteraturen (Writing together. Address, access, and dependency in literature) by Solveig Daugaard and Cecilie Ullerup Schmidt the investigation of the communities that emerge between readers and writers has given the book its shape: That of a letter correspondence, in which the two authors discuss what happens when writing by racialized writers is read by white readers, and how institutional and infrastructural conditions shape what and how we can read and write.
The new publications as well as all the previous contribution to the series are available online.
Topics