Forum Lectures #5: Hanni Kamaly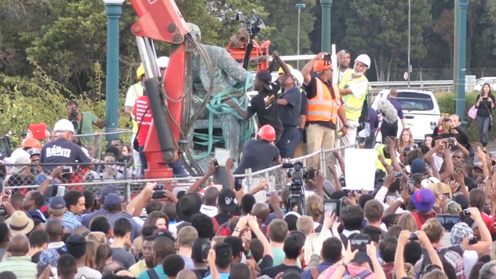 Colonial Traces: History and Memory in Public Art
Abstract
In recent years the fate of public art and its representation has become the points of contention, and the colonial significance of monuments and sculpture has led to a widespread movement for the removal and destruction of these artworks. Concurrently, state institutions propagate ideas of contemporary art, public art in particular, as mediators of democracy. While colonial artworks are contested, their focus is mostly if not solely placed on its figure or imagery. The structures that uphold and preserve the value and existence of such artifacts are rarely explored.
Colonial representation in visual and material culture and its subsequent ramification can be understood given a historical context. By tracing the paths and trajectory of specific art objects, this lecture will present methods in analyzing the politics and ideologies in art and how its meaning operates in the present day. The idea of art and material cultures as the embodiment of memory, in particular, that of collective remembering, is put into question. How can the art object both affirm and deny history and in which way are the colonial aspects of art history conveyed?
About Hanni Kamaly
Hanni Kamaly is an artist, writer, and contributing editor at Paletten Art Journal. Kamaly's research is focused on subjecthood in colonial history and visual culture. Kamaly is currently conducting an artistic research residency at Jan van Eyck Academie.
---
Forum Lectures
Forum Lectures is a series of lectures by Danish and international thinkers and cultural workers reflecting on how art co-forms communality. FORUM LECTURES brings thinking and shared study back to the university and invites to public lectures on the last Tuesday every month at 17:00 - 19:00 (NB: This particular Forum lecture, however, is scheduled for Monday, 22 March).
The initiative is hosted by the research group of the New Carlsberg Foundation research centre Art as Forum. Our researchers are occupied by a.o. the infrastructures of the arts, collective modes of production, the entanglement of political theory and aesthetic theory, assembling strategies of curation, dematerialized art, acts of strategic separatism and temporality in digital art.
We hope to accommodate live lectures in a near future. However, the lecture by Hanni Kamaly (50 min + Q&A) will be streamed.
The lecture is open for all interested and takes place on Zoom.