Home > About the department
The Department of Arts and Cultural Studies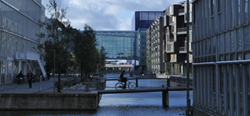 The Department of Arts and Cultural Studies aims at offering research, education and general information of high quality in a manner which contributes to discussion and elaboration of traditional disciplines of culture and aesthetics. The department is home to international research and higher education from BA level to PhD level regarding all major art forms.
Both our research and education are focused on the history of individual art forms and artistic practises from antiquity to the present day. Various art forms and artistic practices are studied in their interrelation as well as in context with major trends in culture and society in an international perspective.
The Department of Arts and Cultural Studies aspires to support research and its dissemination, while offering education of the highest quality in a way that contributes to the development and modernisation of the traditional art forms. Another goal of the department is to provide a framework for the development of academic knowledge, inquiry, and scholastic potential. At the department, students can acquire qualifications either by following a more traditional path or they can combine a study package of their own across the conventional borders of the various academic fields.
Great importance is attached to the continuous development of the relations between research, dissemination, and education. This is achieved through active dialogue between the department and social institutions, amongst the researchers, and between the lecturers and their students.